Dieser Download enthält die GTR2 Porsche Supercup Saison 2009 Mod.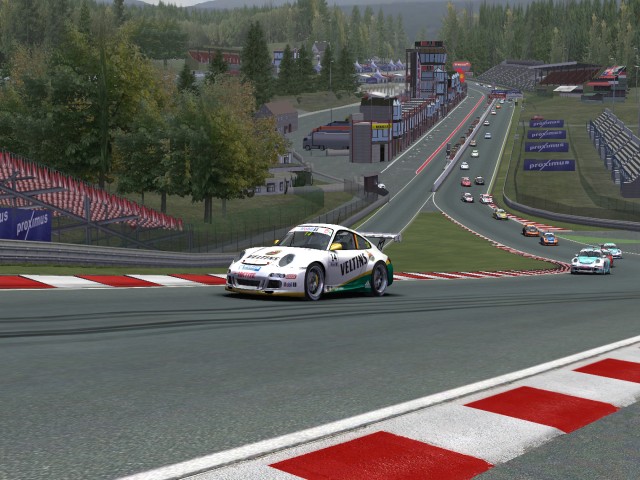 Installation:
Die Datei ins Hauptverzeichnis von GTR2 entpacken.
Informationen aus der Readme-Datei:

After a longer wait than originally planned, here is the Porsche Mobil 1 Supercup mod for 2009. It's a totally standalone version requiring no other mod to make it work.
All the real 2009 teams and drivers including guest drivers are included (31 in total) except for Zampedri (Konrad #10 at Monaco only) and Ferrara (Sanitec #8) who I've replaced with Hirsch and Engelhart, and Fantini (Ebimotors #39 at Nuerburg) who I just haven't got enough information to finish.
This download is the cars only but they are all playable together in Race Weekend mode and can be raced with other Porsche GT3 Cup cars in Single Makes.
Championship files will follow as soon as Zwiss releases his Abu Dhabi track for GTR2 but the list of all the other tracks required for this mod is in the ReadMe below.
Enjoy!
kiwisteve
PS - I have included helmets and talent files for every driver.
---
PMSC_09 mod by Kiwisteve
Version 1.0, July 2009
This is your chance to be a driver in the 2009 Porsche Mobil 1 Supercup. Supporting the Formula 1 circus, there are 12 races across the world, in a season running from from April to September. Here's the race schedule: Bahrain (2 races), Barcelona, Monaco, Istanbul, Silverstone, Nurburgring, Hungaroring, Valencia street circuit, Spa Francorchamps, Monza and finally Abu Dhabi.
You will need to download the tracks listed below as they are not included as standard with GTR2.
You can also run this mod on your choice of tracks outside the championship by choosing the mod in the game's CLASS selector.

INSTALLATION
=
Extract the .rar file and copy the GameData folder into the GTR2 folder, let all overwrite (no original GTR2 files will be affected!).
You will need the following tracks to complete the championship. (NOTE: these are different versions from the PMSC_08 mod with the exception of Monaco and Monza!).
REQUIRED TRACKS
=
Here is the track listing and where to download the correct versions:
#01 Bahrain "Sakhir 2005 v1.2 by ZWISS"
#02 Bahrain As above
#03 Barcelona "Barcelona 2007 v1.0" And "Barcelona 2007 fix by merlin 75"
#04 Monaco "Monaco2007 by N2LO"
#05 Istanbul "Istanbul, GP 2006 for GTR2 by gobi
#06 Silverstone "07Silverstone by motorfx
#07 Nurburgring "Nuerburg European GP by LeeJr
#08 Hungaroring "FIAHungary_NAGP by GTR_HabatuZ & Greybrad And "Hungaroring_track_cut_fix"
#09 Valencia "Valencia Street Circuit 1.0 by Neel Jani
#10 Spa "Spa 2008 by by Fool_1njection"
#11 Monza "Monza 2004" STANDARD GTR2 TRACK
#12 Abu Dhabi INFORMATION TO COME NEW ABU DHABI CONVERISON BY ZWISS
Extract these tracks to GTR2/GameData/Locations. None of these tracks should cause any problems but do delete the HAT files for any previous versions of these tracks (HAT files are found in GTR2/UserData/Log/HAT).
PEOPLE WHO HELPED
=
Big thanks to GRF - German Racing Factory (www.grfmods.de.vu) - for their original Porsche Carrera Cup 2006 mod! And thanks to Oversteer for his encouragement and his Real_Dash_Mod. Thanks too to Schuchi, Carzy90 and snowy for major help and support.
PERMISSIONS
=
1. The Porsche Carrera Cup 2006 engine & gearbox were changed by Schuchi for the PMSC_08 mod with permission from Oversteer (GRF).
2. The sound is by Carzy90 ("Ultimate RSR and RS Sounds" - see http://www.nogripracing.com/details.php?filenr=9782) and many thanks for it.
3. Oversteer's_Real_Dash_Mod_1 (http://www.virtualr.net/gtr2-real-dash-mod-released/) is also included. Thanks.
4. Black BBS/Michelin wheels for the #27 and #28 cars are from the the 24H Rennen 2008 Mini Mod GTR2 and are used with the permission of Aleksss (http://gtr2extremeracing.okbb.de/forum.html).
5. Logos and skin elements for cars #31, #32, #33 and #34 are from the excellent Porsche Carrera Cup Great Britain 2009 mod for rfactor (http://www.nogripracing.com/details.php?filenr=18502) - so big thanks to snowy.
VERSION LOG
=
1.0 released July 2009
Enjoy!!
Kiwisteve, July 2009